A QR-Code to transfer a VCard
Everyone knows about QR-codes now…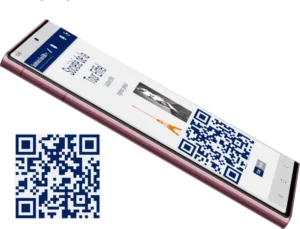 Launch the camera
Scan the code
Open the notification
Any phone can read a QR-Code with its camera: it is a kind of alphabet for them… The phone decrypts the sequence of black and white dots, converts them into an Internet address, and moves on to the BastaPrint page that displays your details. The format is called VCard.
Two points that make the difference:
It's secure! The address of the page cannot be guessed… Only people who have the link can access it!
The phone reads it in a fraction of a second. This is much more convenient than the long QR-Codes of Covid times
Thanks to this code, BastaPrint can be used with all phones…
NFC tech to transfer a VCard
This is more technical: 13,56 MHz, ISO 14443 if you are intimate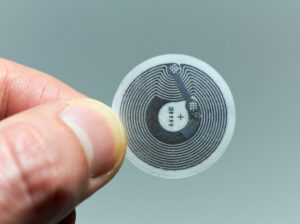 Put the BastaPrint card close to a phone (back of an Android phone, or top of an iPhone)
Open the notification, if any…
NFC is a technology that allows a battery-free device (e.g. the BastaPrint card) to communicate with a battery-powered device (the phone) in a fraction of a second.
The phone sends regular micro-pulses, and the card responds, if it is placed a few millimeters away: it sends it the internet address to fetch your information (the same address as the QR-Code above, hosting your VCard).
Two points that make the difference:
There is no battery in the card, so it will always work…
Security is guaranteed: the card is only detected if it is really close, like 5 mm to 1 cm.
This is the technology used for contactless payment. So all recent phones are equipped with it!
At least the following devices are compatible with our cards.